Skip to product information
Overview
Setting the standard in the industry for years, the Losi® 1969 Camaro Drag Car is the most competitive No Prep Drag Racing Ready-to-Run. With the popularity of No Prep Drag Racing exploding, Losi has once again taken it to the next level with a truly innovative design and the quality workmanship drivers expect. The 69 Camaro has been carefully crafted to give a classic look while still fitting into the rules and regulations set by the No-Prep Drag Racing scene. It has all the advantages of an aluminum chassis such as electronics protection, side impact guards, and a clean wire management system with plenty of 22S option parts. It's designed with racers in mind with many outstanding features including officially licensed Mickey Thompson tires, limited travel oil filled front and rear shocks, low center of gravity rear shock tower, extended body mounts, optional heavy duty sway bar, adjustable weight front bumper, elevated transmission, adjustable turnbuckles, and a fully adjustable wheelie bar. You get an all-metal gear transmission for concrete dependability along with a Spektrum™ SLT3 transmitter and dual protocol receiver, Spektrum Firma™ 100 amp Smart ESC, and Spektrum Firma 6500kv brushless motor. From its unmistakable body, to rapid handling, everything about the Losi 1969 Camaro Drag Car is ready to provide racing thrills like nothing else.
Features
Spektrum™ Firma™ 100 Amp Smart ESC
Spektrum Firma 6500kv Brushless Motor
Spektrum SLT3 Transmitter and Dual Protocol Receiver
All new 22S aluminum chassis
Officially Licensed 1969 Chevrolet Camaro Body
Officially Licensed Summit Racing Trim Scheme (Available on the T1 version)
LED Lights
Mickey Thompson branded Large Rear Drag Racing Slicks
Mickey Thompson branded Low Drag, Front Tires
All Metal Gear Transmission
Elastomer Battery Straps
Full Adjustable Wheelie Bar
Aluminum Option Parts Available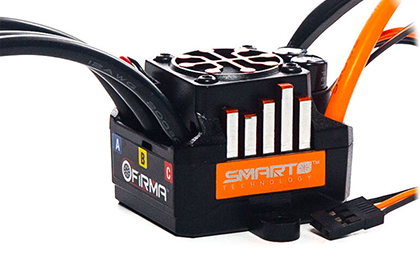 Spektrum Firma 100 Amp Smart ESC
Spektrum Firma 100A Smart ESC for surface vehicles (With Drag specific programing) is waterproof and delivers power and intelligence all-in-one. Without additional sensors or modules, they feed battery and ESC telemetry data straight to your radio in real time, all over one connection.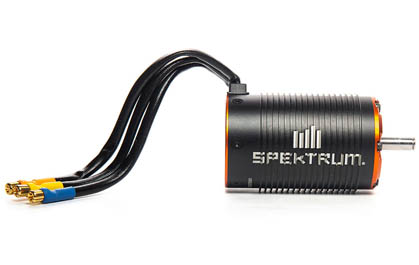 Spektrum Firma 6500Kv Brushless Motor
The Firma 6500Kv brushless motor features a lg 4-pole 8-magnet rotor design, CNC machined aluminum housing, insulated high purity copper windings, high-quality alloy steel 3.175mm (1/8") output shaft, and precision bearings for high durability and smooth rotation. Preinstalled 4mm gold plated bullet connectors.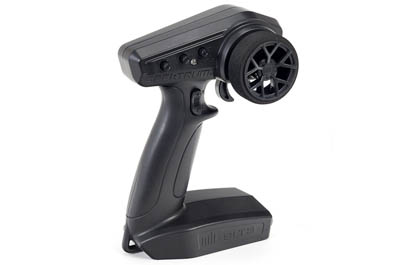 SLT3 3-Channel SLT Radio System
The SLT3 is much more than an economical 3-channel radio. Together with the included SR315 receiver, it's the most affordable radio system available that offers Spektrum quality range, response, and interference resistance while also laying the groundwork to upgrade later for superior DSMR® control and Smart connectivity. Its SLT protocol is compatible with the Spektrum SPMSLR300 (SLT Protocol Receiver) and legacy Tactic™ receivers, such as the TR325, that are included with some ready-to-run vehicles.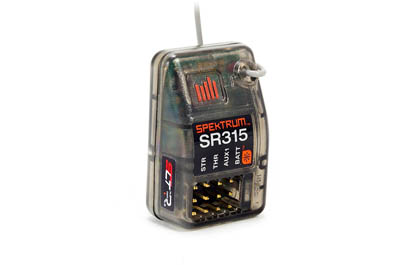 Spektrum SLT3 Dual Protocol Receiver
The SR315 dual protocol receiver included with the SLT3 radio system not only supports the transmitter's SLT 2.4GHz technology but is also compatible with Spektrum DSMR® protocol. It's ready when you are for stepping up to next-level transmitters such as the DX5 Pro, DX5 Rugged, and DX5C. The receiver supports Spektrum Smart Technology, too — paving the way for you to enjoy Smart connectivity advantages when using it with Smart transmitters, ESCs, and batteries.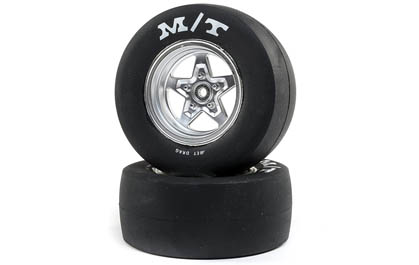 Mickey Thompson ET Drag Tires
The Mickey Thompson licensed rear tires will surely give you a great grip on the road, making sure you have the ultimate traction for the high powered brushless system that is included.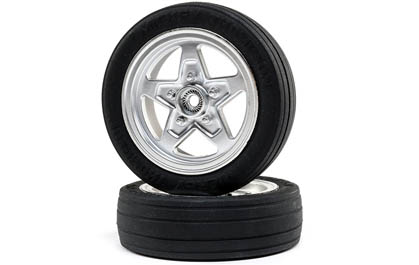 Mickey Thompson Ultra Light Front Runner Tires
Mickey Thompson licensed front tires will provide you with plenty of tracking while having lower drag characteristics.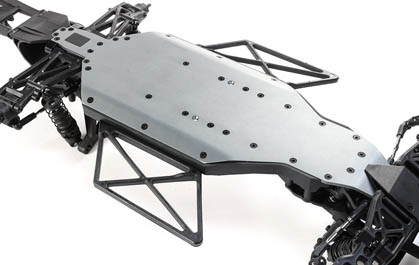 3mm Aluminum Chassis
The 69 Camaro Drag Car comes standard with the all new 3mm Aluminum chassis provides accurate and positive grip to the road when you are pushing the limits of power and traction. This chassis is designed with electronics protection, side impact guards, and a clean wire management system.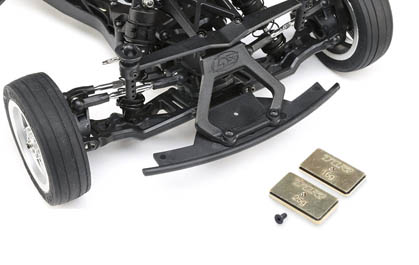 Front Bumper with Adjustable Weight Placement
Fine tune the weight of the front end to keep it under control and on the ground.
Elastomer Battery Straps and Adjustable Battery Position
Fine tune the position of your battery with the addition of elastomer battery straps and make your battery changes quick and easy. No more messing with clunky hook and loop. Simply slap your battery in, pull across the strap and hook it.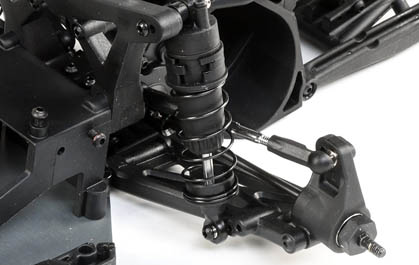 Oil-filled Internal limited Coil-Over Spring Shocks
These shock absorbers help keep the car incredibly stable and so you can maintain total control on even the toughest drag strips. Internal limiters help eliminate body roll and keep the car planted to the track.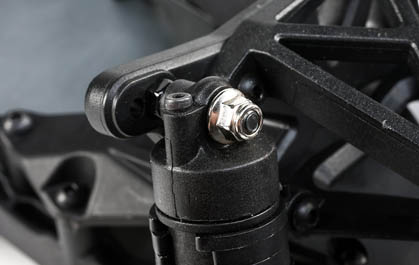 Bleeder Shock Caps
Bleeder caps help you fine tune your shocks and get the perfect feel every time.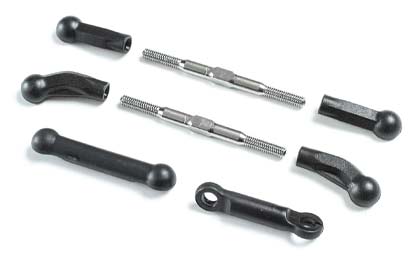 Fully Adjustable Turnbuckles
For added adjustability and tune-ability, adjustable turnbuckles come standard.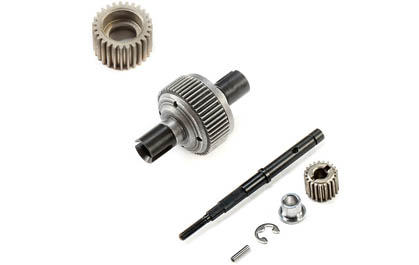 All Metal Gear Transmission
The 69 Camaro Drag Car comes with an all metal gear transmission for bullet-proof reliability to withstand anything you throw at it. Get your car down the lane without the fear of a broken transmission gear!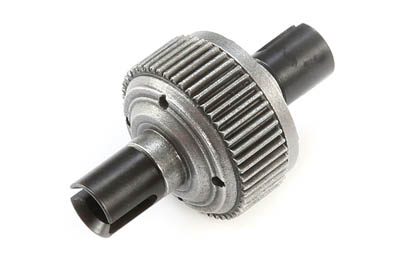 Sealed Gear Differential - 500,000k Oil
The sealed gear differential comes standard with 500,000k diff oil installed allowing you to throw as much power as you want.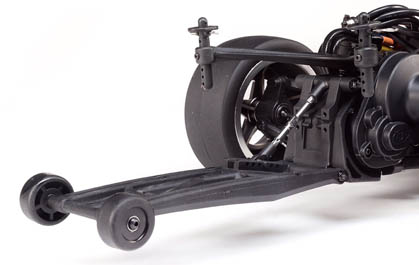 Precise Adjustable Wheelie Bar
The 69 Camaro Drag Car incorporates an adjustable wheelie bar that lets you dial in the exact postion for your wheelie bar run after run.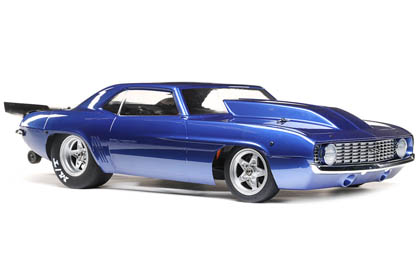 Officially Licensed 1969 Chevrolet Camaro
The Classic look that made the 69 Camaro one of the most popular muscle cars.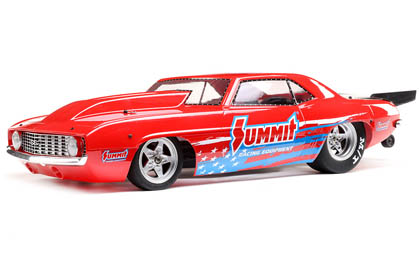 Officially Licensed Summit Racing Trim Scheme
Look just like the factory racers with a custom Summit Racing livery.